Effective Jan 1, 2015, purchase of downloaded products by customers in the EU will no longer be supported on this sight due to new VAT regulations. For EU customers, only products on physical media (books, CDs, DVDs, Frustums) can be purchased.
2/8/2018 Shop rebuild is coming along nicely. Expect to be operating in March.
Segmented Turning?

Design your first segmented project in 5 minutes with the

Segmented Project Planner




---
Major Features of the Segmented Project Planner
Calculators( AutoBowl, Incline Angle, Volume)
Color Picker
Designers ( Diamonds, Open Segment, Vertical Spacers, ZigZags)
Design Tools (Describe-A-Shape, Design Assistant, Layer Tuner, Shape-A-Bowl, Sketch-A-Bowl)

Document Generator
Named Colors
Project Resizer
Reports (Project, Cut List, Turned Away, Turning)
RingMaster Support
Segment Designs/Mosaics
Segment Images
Segment Painting
Template Printers (Rings, Segments, Angles)
Videos ( Program Usage, Construction)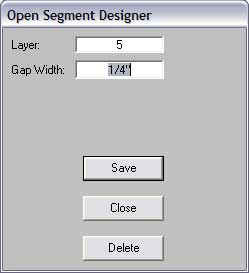 The Open Segment Designer dialog is a lot like the Vertical Spacer Designer. In fact, one started out as a copy of the other. With this little dialog, you can add an open space between every segment in a layer/row. Specify the gap as a measurement, as shown in the sample, or specify a percantage of the segment size. The maximum gap is 50% of the segment size.
Still not convinced? Just give me a call at (805) 489-5309. I'll answer all your questions.
Contact US: 4877 Grange Rd. || Santa Rosa, CA 95404 || Phone: (805) 489-5309 || Email: bkandler@segmentedturning.com

Page Last Updated: 2/8/2018