Effective Jan 1, 2015, purchase of downloaded products by customers in the EU will no longer be supported on this sight due to new VAT regulations. For EU customers, only products on physical media (books, CDs, DVDs, Frustums) can be purchased.
2/8/2018 Shop rebuild is coming along nicely. Expect to be operating in March.
Segmented Turning?

Design your first segmented project in 5 minutes with the

Segmented Project Planner




---
Major Features of the Segmented Project Planner
Calculators( AutoBowl, Incline Angle, Volume)
Color Picker
Designers ( Diamonds, Open Segment, Vertical Spacers, ZigZags)
Design Tools (Describe-A-Shape, Design Assistant, Layer Tuner, Shape-A-Bowl, Sketch-A-Bowl)

Document Generator
Named Colors
Project Resizer
Reports (Project, Cut List, Turned Away, Turning)
RingMaster Support
Segment Designs/Mosaics
Segment Images
Segment Painting
Template Printers (Rings, Segments, Angles)
Videos ( Program Usage, Construction)
The Sketch-A-Bowl™ function is provided to better support you during initial project design activities. This is when you are searching around trying to come up with a shape and you probably can't draw worth a hoot. At least this is a major problem for me.
Sketch-A-Bowl™ provides you with several simple object shapes to start from and then allows you to tug/push at various points on the object to deform it into what you want. How simple can you get! If you want to draw your project with the mouse, you can do that too!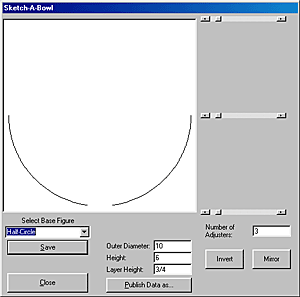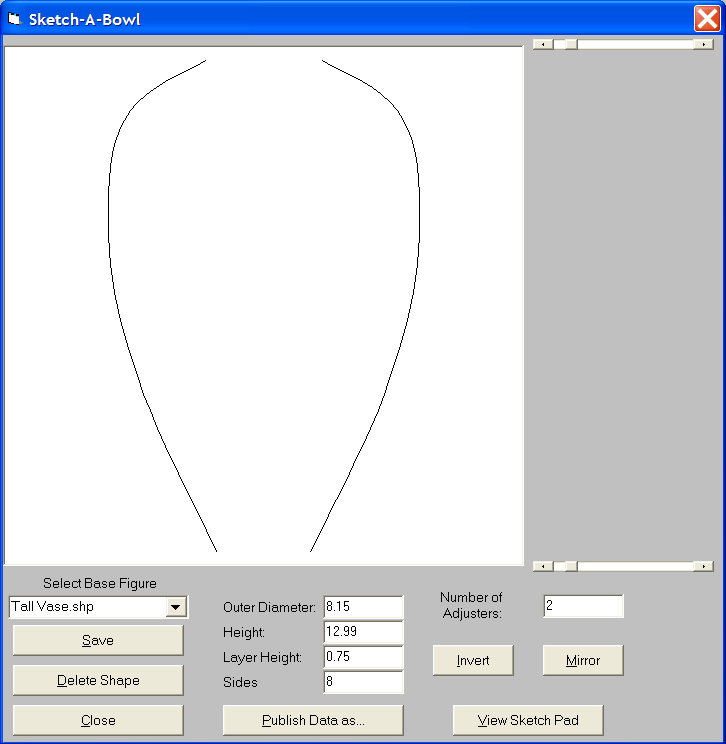 These two sample pictures show it all. The first is one of the starter shapes which can be modified by pushing/pulling on its walls. The second shows a project profile just created in the Sketch Pad.
The starter shapes are cylinder, half-circle, circle, and parabola, plus 25 other project shapes. The number of tug/pull points is variable from 2 to 9, depending on the number of points in the shape. You can save your developed shapes as starting points for future projects. When you are satisfied with the shape, you can publish it as a file that can be directly loaded into the Segmented Project Planner, or as a .csv file. Once you've made a project file, and possibly made further shape changes, you can save the project as a new starter shape.
If you can't achieve the shape you want by pushing/pulling on the walls, you can go to the Sketch Pad where you can control the individual data points. The shape is displayed using Bezier curves to make it easy for you to create fluid curves in your project profile.
Click here to get back to the Segmented Project Planner base page.

Click Here for Special Combination Purchase Deals.


Still not convinced? Just give me a call at (805) 489-5309. I'll answer all your questions.



Contact US: 4877 Grange Rd. || Santa Rosa, CA 95404 || Phone: (805) 489-5309 || Email: bkandler@segmentedturning.com

Page Last Updated: 2/8/2018